Pope TV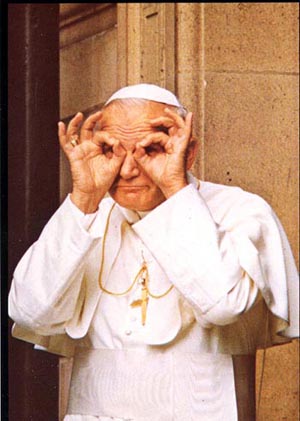 Can't get enough Pope coverage? Do you want Pope access 24/7? Well pilgrim, get off your knees and run to your set because now your prayers have been answered!
Yes, Pope TV brings you all Popes, all the time. They're all here -- from St. Linus (67-76) to St. Deusdedit (Adeodatus I)-(615-18) to Pope Callistus III (1455-58) to Pope Blessed Pius IX (1846-78) right up to Pope John Paul II! So many Popes that you'll swear you're living in the Vatican!
Want encyclicals at 4:37 AM? We got 'em! Desire historical re-enactments of papal decision making? Deliverance is but a thumb click away! And don't miss the first in what we hope will be a long line of exclusive mini-series, "Crucifix & Swastika: Pope Pius XII Meets The Nazis," starring Michael Caine as the most misunderstood Pope of all time!
So call your cable or satellite provider RIGHT NOW and demand Pope TV!
Remember, it's not just Pope TV -- it's Must Holy See TV!