Sandino Redux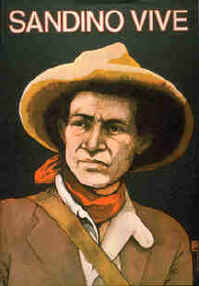 In this edition of
"I Love The 80s,"
we return to those crazy years when, in Soviet-built bunkers filled with Romeo y Julieta cigar smoke, the Sandinistas plotted to take all of Central America in preparation for a full-scale invasion of the US. Alarmed by this massive threat to our national security (remember the Civil Defense drills of '84-85?), the Reagan admin, outspent and outnumbered by the cunning Nicaraguan Reds, cobbled together a ragtag army of genial misfits called The Contras. A blend of
Kelly's
&
Hogan's
Heroes, these plucky, fun-loving, hard-playing Nicaraguan minutemen fought valiantly against
cooperative farms
, doctors inoculating peasants for treatable diseases, rural schools, and
li'l terrorists galore.
With the backing of
besieged American patriots
and the
prayers of freedom lovers
nationwide, these moral equivalents of our founding fathers forced the Sandinistas to the ballot box where the cornered commie rats were trounced like Kerryites in Ohio.
Their grueling job finished, The Contras were rewarded with the highest state honor by a
grateful President Reagan.
So who knew The Threat would return?
While the American political class chatters on about the battle between
Good
vs.
Evil
in Ukraine, the Sandinistas are making a political comeback in Nicaragua -- only this time, the sneaky bastards are gaining power by appealing to the populace and campaigning for votes!! In this month alone, the Sandinistas
won 87 of Nicaragua's 152 mayoral posts
in nationwide elections. And now there's concern up north that
Daniel Ortega,
the man who nearly destroyed America twenty years ago, might win the Nicaraguan presidency in 2006. Clearly, this is not the kind of "regime change" that the likes of Wolfowitz and his hangers-on are pushing globally.
The Sandinista revival is hardly an anomaly in Latin America. There is a
growing leftist challenge
to the
ongoing economic inequality
that ravages the region. It'll be interesting to see how those Americans who love to lecture other countries on democracy and popular rule will respond should this electoral trend continue. Given the make-up of the present US government, I highly doubt that we'll hear much about "the will of the people" and "popular mandates" that were Beltway vogue right after Bush's win. With all the
former Reaganites
and
Iran/contra players
currently on the federal payroll, perhaps another major political scandal is in the offing (not that the Dems would do much about it). One revival tends to prompt another.