Weasels Ripped His Flesh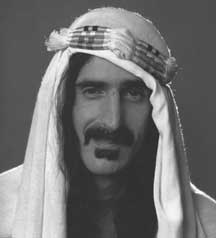 Here's a classic bit of TV -- a March 1986
"Crossfire"
episode that pitted reactionary clown John Lofton against conservative musician/composer Frank Zappa. Topic: Obscenity in music videos. The two are flanked by Robert Novak and Ol' Tom Braden, the former CIA man who played "the left" on "Crossfire" way back when.
Watch Lofton and Novak go right for the (what else?) incest button. Watch Zappa swat them down. Watch Braden imply, between brief naps, that he doesn't masturbate.
Paul Begala and Tucker Carlson got nuthin' on these guys.